Trust your Car to Our Safford's of Tysons Corner Collision Center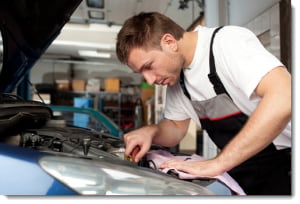 After an accident, you want know that your car is in good hands and that any repairs will be completed at the highest standard with quality parts and by repair experts. After all, the safety of you and your family depends on your vehicle.
Auto repair in Vienna
At our Tysons Corner collision center, you will find quality workmanship, competitive pricing and fast service. From major repairs to fixing minor dents, we can handle it. We offer direct repair for most major insurance companies, deal with insurance paperwork for you and offer great warranties on our work. 
Our Vienna auto repair shop takes the hassle out of collision repair with skilled professionals, flexible scheduling, direct insurance billing, towing service, and loaned cars to get you around while we take care of your vehicle.
Our Tysons Corner collision center's got your back
Schedule you appointment at our collision center today by filling out the Service Appointment Request form on this page. Our dealership offers flexible appointment scheduling; call the Safford FIAT collision center at
(703) 893-0000
if you have any questions. 
Don't forget to regularly maintain and service your car, truck or SUV. We can do this as well for you at our service center right here in Vienna, VA.