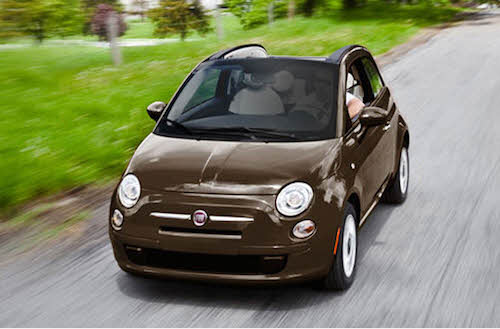 FIAT 500c 2015 Model

DC FIAT fans may think they know what to expect from the brand with its latest edition of models for the 2015 year, but are they truly ready for the 2015 FIAT 500c? This convertible brings a whole new feel to the brand, as it literally opens up a new level of atmosphere that FIAT drivers may not expect to find with the compact car line. And when they come to Safford FIAT of Tysons Corner and give this model a test drive, they'll be met with something new and surprising. 
The FIAT 500c is a car that delivers a multitude of properties and fun features, but the 2015 500c is for those drivers looking for a little more fun, a little more adventure. The model's soft top can retract to give a whole new atmosphere to the driving experience of the car. This is the cherry on top of the compact sundae of the FIAT 500c model. 
The roof is power-operated and able to be put in four separate pre-set positions. This allows for the drivers to limit how much wind and sun they want to let in while on the road with their 2015 FIAT 500c. What's even more exciting is that this top of dual-layer cloth can be retracted while the car is going up to 60-mph. So if it was raining when a driver left home, and then the sun came out while on the highway, they'll be no need to stop to get a little more air.
What Powers the 500c is Truly Pure Efficiency 
Similar to its relatives in the 500L category, the FIAT 500c has the same engine that delivers a jaw-dropping economy of 31-mpg city and 40-mpg highway. This engine is a 1.4L I4 MultiAir engine that is teamed up with a five-speed manual transmission. This is the standard mechanics for the 500c Pop and Lounge, but with the 500c GUCCi model, drivers will enjoy a different type of transmission, a six-speed automatic transmission. 
The 2015 500c Offers Multiple Safety Features for Its Drivers 
Similar to the 2015 500, Gaithersburg 2015 500c drivers will be able to enjoy a variety of safety features that make this model much safer than many of the compact vehicles on the road today. It has an advanced multistage front airbags system, electronic stability control, rear park assist, supplemental front seat-mounted side airbags, and a tire pressure monitoring display to give drivers the awareness of their car's condition. 
Safford FIAT of Tysons Corner is excited to be a FIAT dealer serving DC and Gaithersburg, and they are confident that their customers will be entranced by the 2015 FIAT 500c. To learn more about this model or enquire about test-driving it, shoppers can call (888) 716-2490 today!